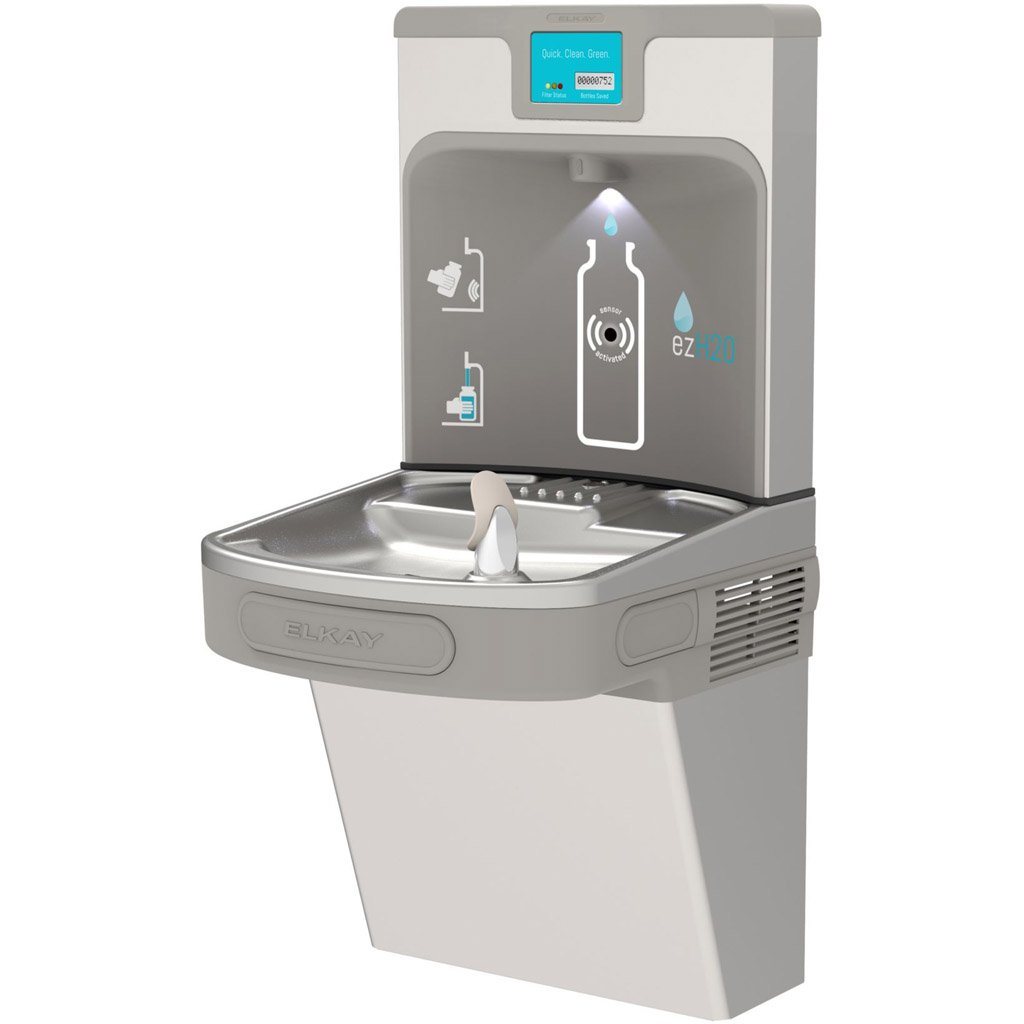 Elkay LZS8WSLP Enhanced ezH2O Water Cooler with Bottle Filler Light Gray
Part Number: #03589
Manufacturer: Elkay Manufacturing
Mfg Number: LZS8WSLP
Installation: ezH2O Wall Mounted Bottle Filling Station and Water Cooler
ADA Compliant: Yes
Finish: Light gray granite vinyl clad steel finish
Filter Included: Yes
GPH: 8
Vandal Resistant: No
Operation: Sensor Operated Bottle Filler
Shipping Weight: 71 lbs

This space-saving, combination drinking fountain and bottle filler provides flexibility for all your hydration needs. Grab a drink from the bubbler, or fill up your water bottle and take it with you! Reusable water bottles protect the environment by reducing the number of plastic bottles thrown into landfills. The Green Ticker on this unit keeps count of the number of plastic bottles saved, showing you the positive impact you are having on the planet. The energy efficiency and self-diagnostics of this enhanced ezH2O water cooler make it an even smarter choice. The sensor activated bottle filler employs an LED to help you better see the water level in your bottle, and can also illuminate dim hallways. This unit is the perfect solution for commercial buildings, offices, schools, health clubs, hospitals, and many other public places. Whether you need the chilled or non-chilled option on this unit, our drinking fountain experts will answer all of your questions in order to help you determine which unit is best for your unique situation.

Features:
• ADA compliant
• Light grey granite vinyl clad steel finish
• LED filter status indicator lets you know when to change the filter, and resets automatically
• Filter has 3000 gallon lifespan
• Bottle filler has laminar flow and 20-second shut-off.
• Bubbler is flexible and anti-microbial, and is activated by push bars located on three sides of the unit
• Unit shuts down refrigeration during off peak times, and can diagnose and display any issues that may arise.

*NEW features for ezH2O units:
• Energy Savings – an energy savings scheduler to allow unit to turn off refrigeration during times of low/non-use
• Filter Status Reset – automatic filter status reset functionality
• System Diagnostics – Self-reviewing system to ensure operation at normal levels. This makes maintenance easier to troubleshoot. Alerts will appear on display should an issue occur.
• Low Energy LED – ezH2O units now come with a LED screen to illuminate dark hallways and assist with filling dark bottles.
For bi-level option, see #65469.
Resources
• Spec Sheet (PDF)
• Manual (PDF)
• Elkay LZS8WSLP & LZS8WSSP Installation Video
• Bottle Filler Water Savings Calculator