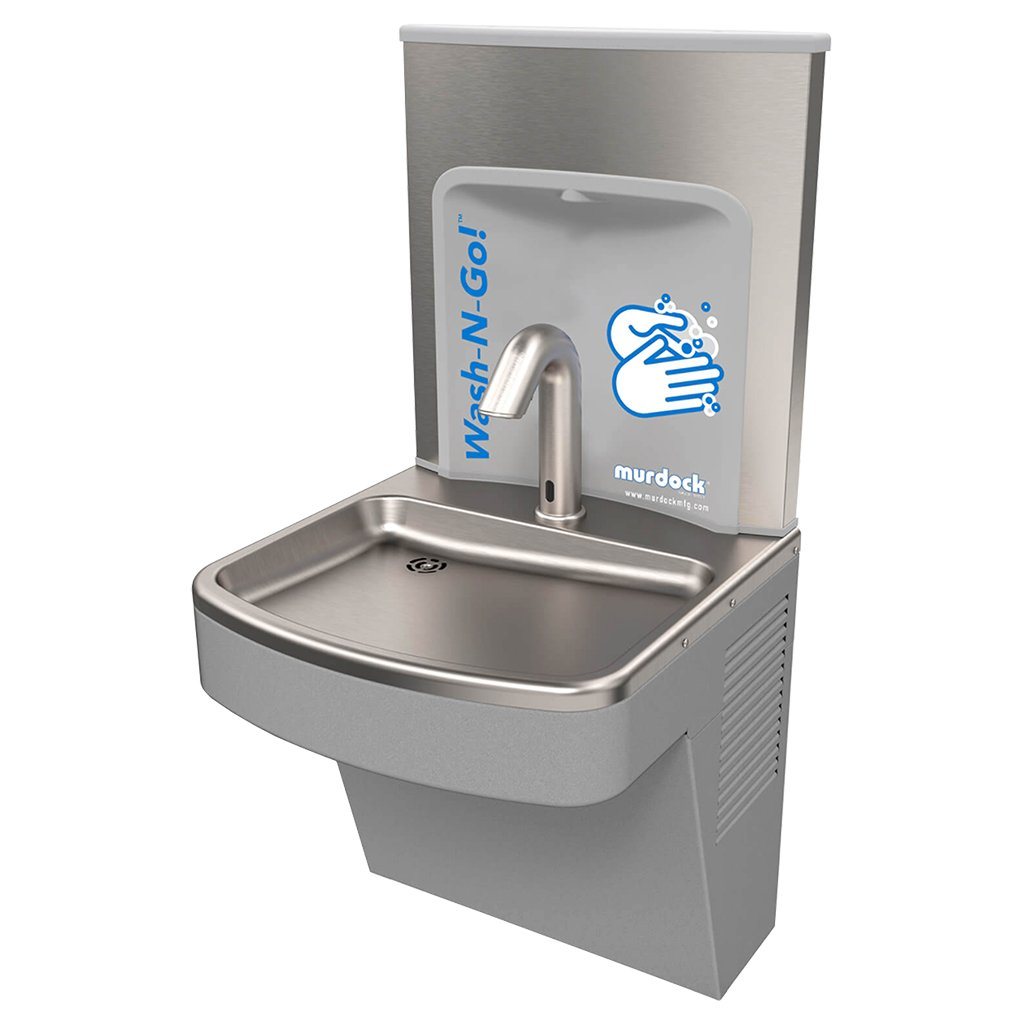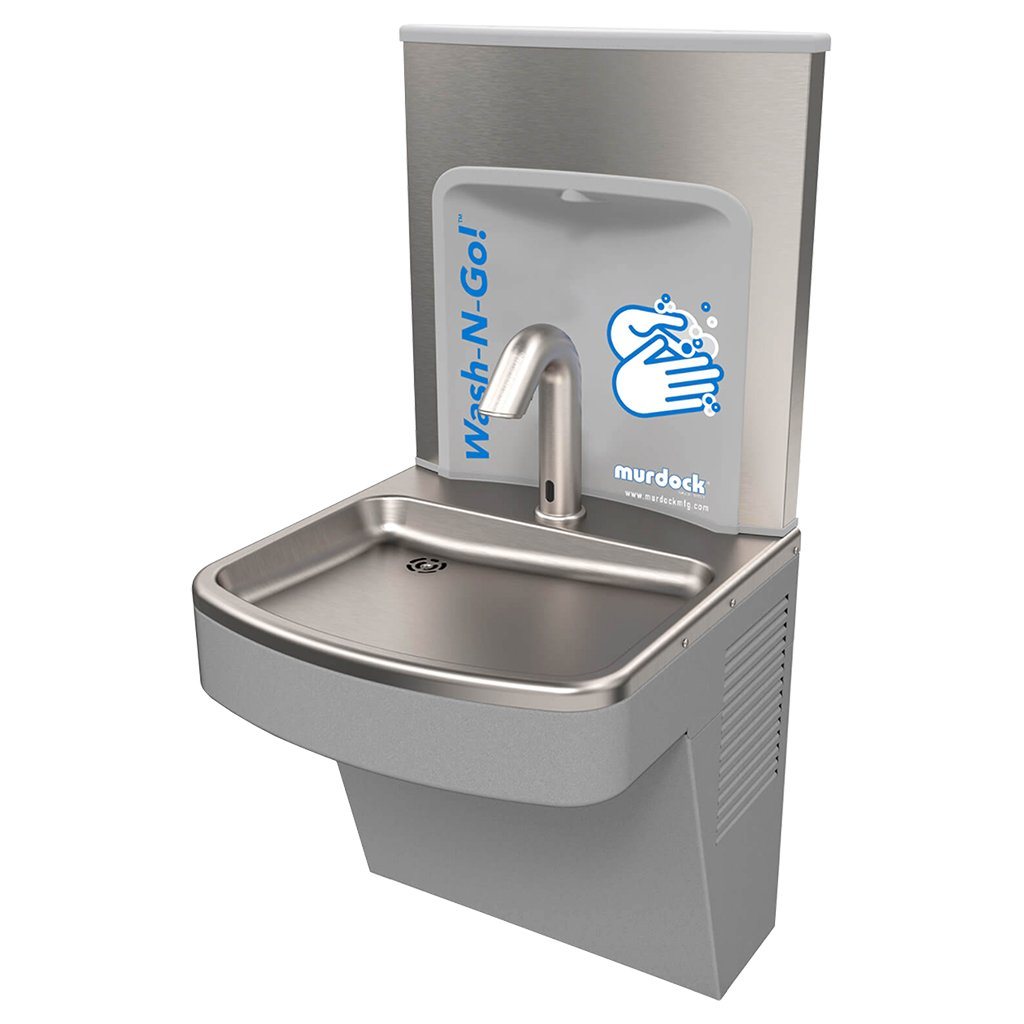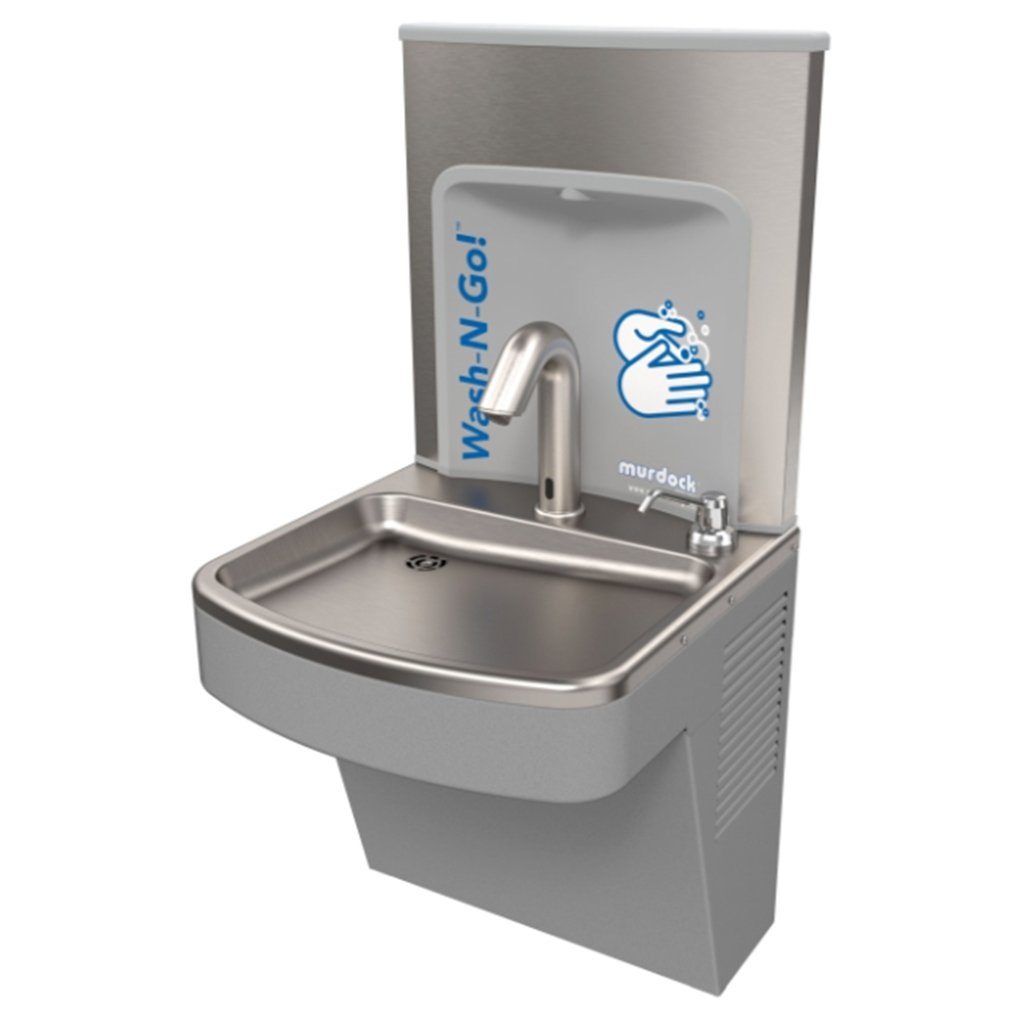 Murdock A171100W EZ Wash-N-Go! Hand Washing Station
Due to fluctuating manufacturer and shipping costs, we recommend calling in to place orders on this item to guarantee we can supply you with the most competitive price.
Part Number: #48400
Manufacturer: Murdock
Mfg Number: A171100W
Installation: Wall Mounted
ADA Compliant: Yes
Finish: Gray Powder Coated
GPH: 0.5 GPH
Operation: Sensor Operated Faucet Spout


New from Murdock is this hand washing station that is wall mounted and provides users with a hands-free hand washing experience. The sensor-operated J spout faucet is constructed of type 304 stainless steel. It is powered either by a 9 Volt DC battery or a plug-in transformer (included). Basin is also constructed of type 304 stainless steel and has an integral drain. The cabinet of this unit is gray powder coated (unit also available with Stainless Steel with Satin Finish. See option information below). Included with the unit is a rear alcove splash guard that helps reduce splash that helps keep liquid contained. It is constructed of antimicrobial, impact resistant ABS. This hand washing station is ADA compliant when mounted at the instructed height.
Features:
• Gray Powder Coated Apron And One-Piece Bottom Wrapper or Satin Finish Stainless Steel
• Hands Free Sensor Operated Stainless Steel "J" Spout
• 9V Battery Power or Plug-in Transformer
• Durable Stainless Steel Spout Superior to Chrome Finish
• Hanging Bracket Provided
• Rough-Ins Match Other Water Cooler Manufacturer's for Easy Retrofit
Additional Options:
• Hand Soap Pump Dispenser - Holds up to 34-ounces of polyethylene Soap. Manual pump-style hand soap dispenser. Select Part #48401 (Murdock #A171100W-PS) or #480401SS (Murdock #A171400W-PS) for the hand washing station with soap pump included. 
• Satin Stainless Steel Finish - Select Part #48400SS (Murdock #A171400W) or #480401SS (Murdock #A171400W-PS) for Satin Stainless Finish with Hand Soap.
• Tankless Water Heater - Add on one of the following options when ordering: H240 for a Tankless Water Heater, 20 amp 240 volt 1 Model #CM20L/240 104F-NPT08 or H120 for a Tankless Water Heater, 12 amp 120 volt 1 Model #CM12L/120 104F-NPT08


Compliance:
ANSI A117.1, Public Law 111-380 (NO- LEAD), CHSC 116875. Fixture shall meet ADA, ADA Standing Person, and ADA Child requirements when mounted appropriately.
Resources
• Spec Sheet PDF
• Murdock Wash-N-Go Flyer PDF
• Product Spotlight