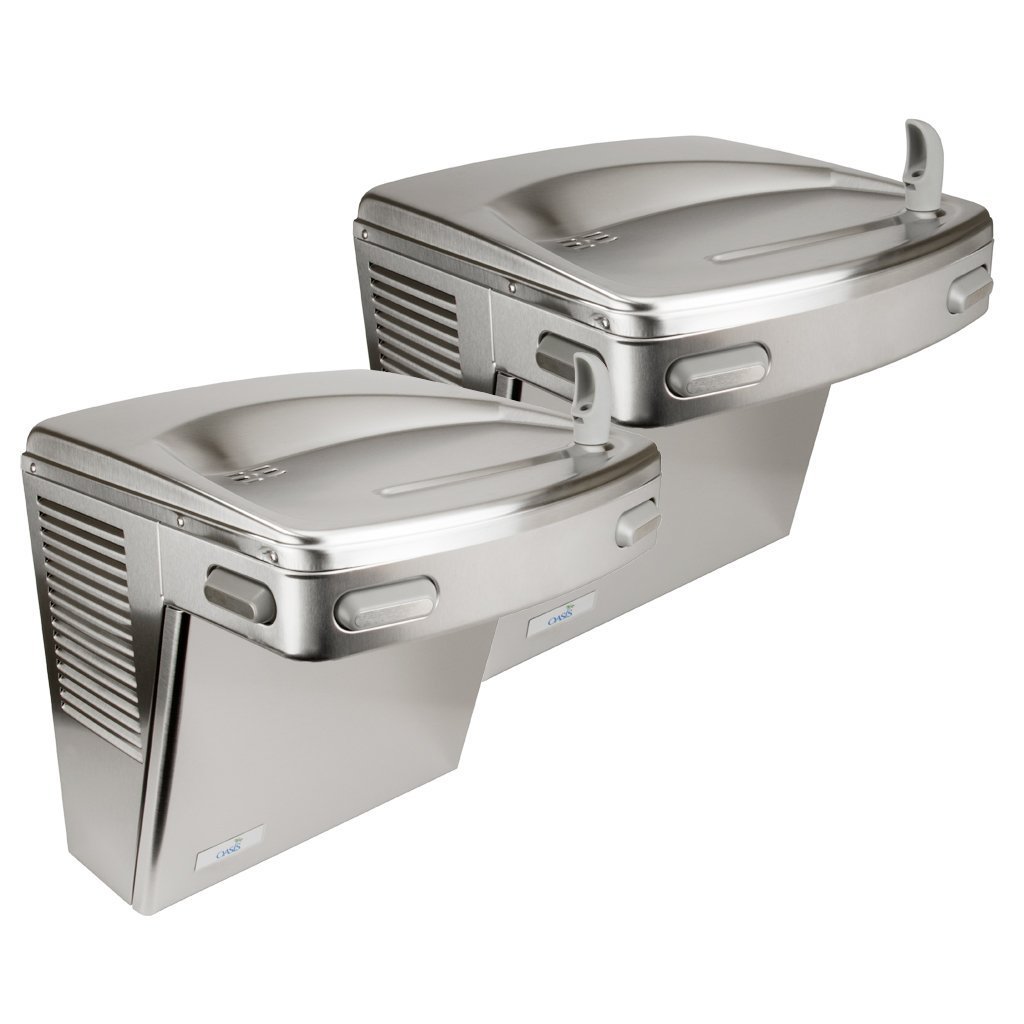 Oasis PG8ACSL-SS Bilevel Water Cooler Stainless Steel
Part Number: #03523SS
Manufacturer: Oasis International
Mfg Number: PG8ACSL-SS
Installation: Stainless Steel Bi-Level Water Cooler
ADA Compliant: Yes
Finish: Stainless Steel
Filter Included: No
GPH: 8
Vandal Resistant: No
Shipping Weight: 69 lbs

This Stainless Steel Bi-Level Water Cooler by Oasis is universal with the higher and lower units are reversible. This bi-level unit is ideal in locations that get heavy traffic like between periods at schools or breaks in a gym. The innovative open-backed design accommodates a variety of plumbing connections and features removable side panels for easy access. Waste tailpiece can be cut at job site to accommodate trap waste height connection.

Features:
• Built-in 100 micron strainer stops particles before they enter the waterway
• Waterways are Lead-Free In Materials & Construction
• Flexible, one piece Bubbler Guard
• Heavy Duty Galvanized Steel Frame
• High Efficiency Cooling Tank and Coil
• Refrigerant r-134a
• Four Push Pad Mechanical Activation
• External Stream Height Adjustment

Unit can be sold without cooler, as a drinking fountain only. Request model #PACSL for non-refrigerated drinking fountain.
This unit can be retrofit with an Oasis bottle filler to become a water cooler with bottle filler combination unit. 
For the single unit, see #03530SS.
Resources
• PG8AC Parts Breakdown (Photographic parts identification chart with links - see image below)
• Spec Sheet (PDF)
• Parts Breakdown (PDF)
• Oasis Water Cooler Troubleshooting Blog

High quantity orders of Oasis units can potentially quality for free shipping.
To see if your order qualifies for free shipping, you will need to call in to place your order.